Suffolk businesses back St. Elizabeth Hospice's 'Woolly Pully Week'
10/01/2019 - St Elizabeth Hospice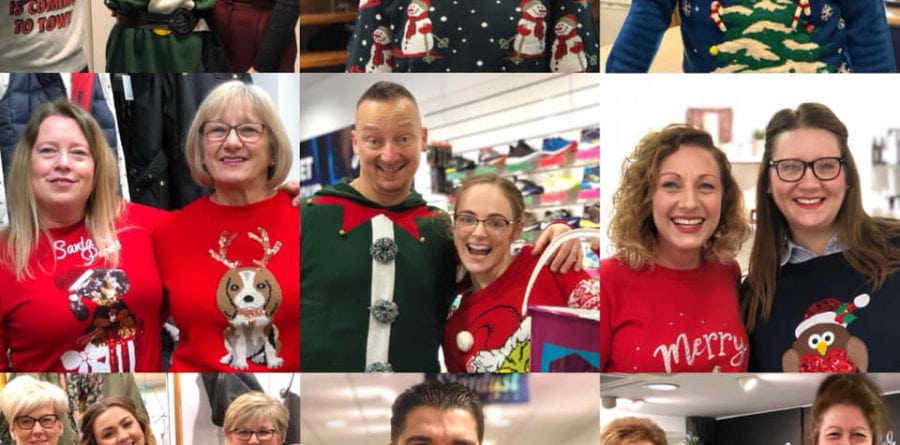 St Elizabeth Hospice was overwhelmed with the backing from the business community for their Christmas jumper event, 'Woolly Pully Week', which saw over 180 local businesses take part in the initiative, as well as schools, individuals and groups of friends taking the total number to over 300.
This year, the Canine Creche Group were the headline sponsor for the week-long event, with their team fully embracing the opportunity for festive photographs at all of their Suffolk branches.
Canine Creche Group Managing Director, and Founder, Candace Rose commented: "We were delighted to support St Elizabeth Hospice and agreed to be their headline sponsors for their Woolly Pully campaign as it really resonates with our brand.  Wearing a Christmas or festive jumper is a fun thing to do and it's now become something you expect to see during December, either at work or school or even at a party at home.  All of our Creche's and Nana's supported this event with the staff and of course the dogs all proudly wearing festive jumpers!"
Felicity Rook, Head of Fundraising at the Hospice said "We were really grateful to the Canine Creche Group for their support this year along with our day sponsors, Attwells, Ensors and the St Elizabeth Care Agency.  Corporate sponsorship is vitally important to the work of hospice and is an area we have really developed over the last few years with clear proposals and delivery plans for our partners. The hospice is a community asset that is much loved and there are potentially great benefits for those companies that are seen to align themselves with us".
Felicity continues, "While still in January, it seems wrong to be thinking about next Christmas, but we will shortly be holding our event evaluation and looking to how we can make Woolly Pully Week  2019 bigger and better for all involved."
If you would like to know more about corporate sponsorship opportunities, or other ways  your company could help support St Elizabeth Hospice, telephone 01473 723600 or email  corporateteam@stelizabethhospice.org.uk
If you have money to pay in from this year's event there are a number of ways to do so:
1) Send a cheque made payable to St Elizabeth Hospice to the Fundraising Team, 565 Foxhall Road, Ipswich, IP3 8LX
2) Hand your donations in to the main reception at St Elizabeth Hospice on Foxhall Road, Ipswich or at your nearest hospice shop.  Shop locations ca be found at www.stelizabethhospice.org.uk/support-us/support-us/visit-our-shops/shop-details-and-locations
3) Make a direct payment to our bank account. Sort code: 16-22-17, account number: 12190600, account name: St Elizabeth Hospice (Suffolk).
Please quote your company/group/school name in the reference and let us know you have sent a payment.
Picture credit – St. Elizabeth Hospice.
St Elizabeth Hospice would like to thank the following participants for taking part in Woolly Pully Week 2018.
Abbeyfield Orwell (Paddy Geere house), ABP Ipswich (Associated British Ports), Adnams Store-Aldeburgh, Adult Social  Services, Aldeburgh Gallery, Aldeburgh Pharmacy (Stuart Beer & co), Aldringham Court Nursing Home, Anytime Fitness Felixstowe, Ardent Hire Solutions, Ardmore Vets, Associated British Ports, Attwells Solicitors, AXA Corporate Solutions – London, AXA XL Insurance, AXA Insurance, Babergh and Mid Suffolk District Council, Babergh & Mid Suffolk Building Control, Banbury Howard, Barker Gotelee, Basepoint Business Centre, Baylham Care Home, Beatons Group, Best Estates, Bluebell Mortgages, Boleyn Events, BT, Bucklesham Grange Care Home(Lifestyle Homes), Canine Creche (Bury), Canine Creche (Lowestoft), Canine Creche (Suffolk), Canine Creche (Needham Market), Canine Creche (Ipswich), Cedrus House Care Home, Celestion/GP Acoustics, Challs International, Christies Care Ltd,  Civil Service, Jobcentre Plus, Claydon Court (Waddington Brown), Coastal IDT, Compass Infrastructure, Conatus Associates Ltd, Concertus UK, Condon Claims Management, Corbel Solutions, Co-operative Bank, Queen Street, Crafted Media, CRASL, Damco, Deben Travel, De Facto Software Ltd, Digital Copier systems, Direct Line, Distag QCS (UK) Ltd, Edinburgh Woollen Mill, Elmers Hardware, Energy Power Resources Limited, Ensors,  Evergreen garden care, Factair Ltd, Fancy Dress Hut, Fargo Systems, Firetrace, Foreshore Accountancy LLP, Gallagher, Grant Thornton, Gymophobics, Halifax (Felixstowe), Halifax (Ipswich), Ha'Penny Press, Harris & James-Southwold, Harris & James-Aldeburgh, Harrison C White, Haven Power, HBD Europe Ltd, HMRC Ipswich, Housing and Care 21, HQ barbershop, Hughes, Imaginative Traveller, Ingleton Wood (Norwich), Ingleton Wood (Colchester), Inside Out, Ipswich Borough Council, Ipswich Borough Council (Shared Revenues Dept), Ipswich Corn Exchange, Ipswich Borough Council – Customer Services, Ipswich Building Society – Aldeburgh, Ipswich Building Society – Princes St, Ipswich Building Society – Hadleigh, Ipswich Building Society Head Office, Ipswich Building Society – Ravenswood, Ipswich Building Society – Woodbridge, Ipswich Buses, Ipswich Job Centre Plus, Ipswich Town Football Club, Ipswich Glass, Isaacs, J.T.Wilding, Jacob Bailey Ltd, John Grose, Joules stores-Aldeburgh, Joules stores-Woodbridge, Joules stores-Ipswich, Just Essentials, KBB East Anglia, Kerseys Solicitors, Kingsfleet Wealth, Kinglsey Healthcare (Spring Lodge Care Home), Kings Coffee House, KLH Architects, Larking Gowen (Dereham), Larking Gowen (Colchester), Larking Gowen (Diss), Larking Gowen (Holt), Larking Gowen LLP, Larking Gowen (Fakenham), Larking Gowen (Norwich), Leaders Ipswich, Lewis Hair Team, Makro, Marks & Spencer Ipswich, Maritime Transport, Marshall Hatchick, Masterlord Estates Ltd,  Mayne Vetinary clinic, Micropress, Monmouth Court, Moore Green Accountants, Morrisons Felixstowe, Morvend, Muntons plc, NHS Ipswich and East Suffolk CCG, O&C Butcher, Orwell Vet group, Park View care home, Pauline Scott Property Management, Penn Commercial, Port of Felixstowe, Premier Education Group, Prettys Solicitors LLP, Pure Resourcing