Ice cream initiative helps local charity
27/07/2018 - Alan Boswell Group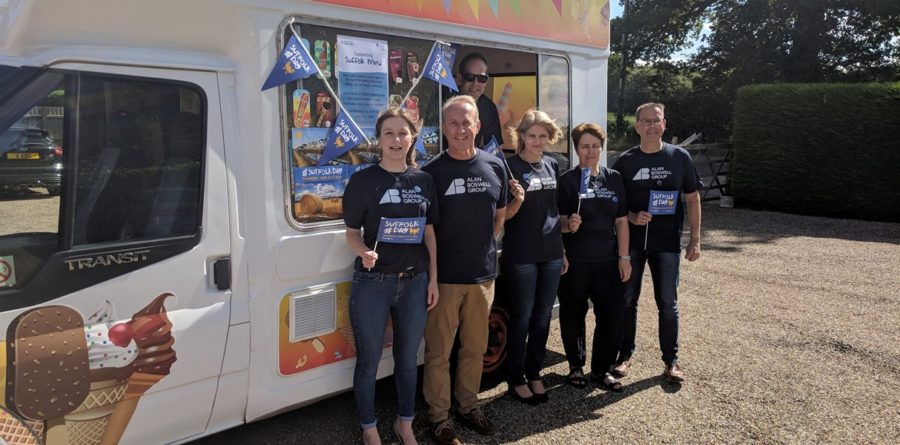 Alan Boswell Insurance Management (ABIM), the leading independent insurance brokers, has presented local charity Suffolk Mind, with a cheque for £500 after celebrating Suffolk Day last month.
Armed with an ice cream van, the team from ABIM ventured around Bury St Edmunds, visiting offices and inviting clients and guests to enjoy a frozen treat.  The successful day ended in Bury town centre with further Suffolk Day festivities.
ABIM chose to support Suffolk Mind, affiliated to Mind National, in recognition of the remarkable work it undertakes in improving the lives of people with mental health issues and raising awareness of mental wellbeing across the county.
Adrian Rayner, Managing Director, said: "Having been in Suffolk for the past 10 years we wanted to do something a little different to help commemorate our fantastic county. Suffolk is known as the 'Foodie County' so what's better than an ice cream on a nice sunny day? We had a great response from everyone we met on our route and would like to say a big thank you to everyone who donated. We're thrilled that we were able to raise a significant sum of money for an incredible charity and hope to further support Suffolk Mind in the future."
Carole Thain, Fundraising Manager at Suffolk Mind comments: "We are extremely grateful to the team at Alan Boswell for supporting us through their fundraising initiative on Suffolk Day. Their innovative approach to fundraising helped greatly to raise awareness as well as donations in the west of the county, our thanks to everyone who took part and contributed in support of our charity work."
​ABIM is part of Alan Boswell Group – a top UK independent insurance broker and financial planner. The group, whose head office is in Norwich, has more than 350 staff across 10 offices in the East of England, including Bury St Edmunds which opened in November 2007.
For more information visit the Alan Boswell Insurance Management (ABIM) website
Picture: L-R Sophie Lang, Adrian Rayner, Jill Day, Alison Sage, Andrew Terry along with David Jacob.
Visit the SuffolkWire homepage for more Suffolk news